About Precision Steel:
 Precision Steel, Inc. was started in 1987 with a simple plan of providing quality miscellaneous steel products at competitive prices.  To this day we are proud to say that our simple plan has led to many lasting relationships that have been profitable for both us and our customers. 
     Precision Steel, Inc. specializes in the fabrication and delivery of steel stairs, platforms, bent plate, ladders, handrails and support framing.  Our sizable manufacturing facilities have seven overhead cranes, press break and shear, multiple work stations and over twenty employees to see that our jobs are fabricated correctly and on time.  Also, we have two semi trucks and numerous trailers to assist us in making on time deliveries anywhere in the continental United States.  Currently we provide fabricated items for hospitals, office buildings, schools and department stores such as Dillard's.
     Our qualified staff of in house personnel is here to help with any questions or pricing you may need.  Also, we have an in house detailer and several outside detailing sources as well as numerous engineering sources available to provide signed and sealed shop drawings when required. 
     As always we are looking for new customers to build lasting relationships that will profit all.  So, if Precision Steel, Inc. can help you with any of your miscellaneous steel needs please contact us via any of the methods shown on this website.
Sincerely,
David J. Pair – Vice President
Photos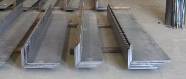 For photos of our equipment and products, click here.
Contact Us
Contact us for more information on how we can help you